Home
Details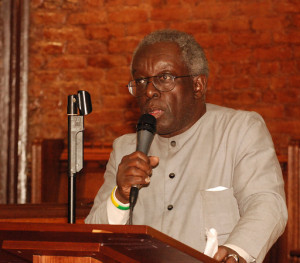 On May 19, our revered elder, walking world encyclopedia, and African scholar, Elombe Brath, made his transition. Much has been said and more will be said about the impact of Elombe's work on the struggle for the liberation of Africa and its people throughout the diaspora. (May 19 was the 89th anniversary of the birth of Malcolm X, whose grandson, Malcolm Shabazz, was murdered in Mexico last May.)
Elombe's homegoing services will be held on Saturday, May 31 from 10 AM to 1PM, at Abyssinian Baptist Church, 132 Odell Clark Pl. (AKA W. 138 St.), bet. Adam Clayton Powell Jr. and Malcolm X Blvds. (Take 2,3,B,C trains to 135 St. The 2/3 train station has an elevator.) We will accompany the
family to Woodlawn Cemetery.
A repast will follow at the Harriet Tubman School - the site of so many of Elombe's Friday seminars - 250 West 127 St., between Frederick Douglass and Adam Clayton Powell Jr. Blvds.
Before the service, join the "Morning Walk Through Harlem Retracing Our Brother's History." Assemble, at 8AM sharp, in front of the Adam Clayton Powell Jr. State Office Bldg. (163 W. 125 St. at Adam Clayton Powell Jr. Blvd.) and together arrive at Abyssinian at 9 AM before the doors open. (Organized by December 12th Movement, Patrice
Lumumba Coalition, Freedom Party, Black Mens Movement, Committee to Honor Black Heroes, WADU, CEMOTAP, Africans Helping Africans, AAPRP (Chaka Cousins). Info: 718-398-1766.
During the course of the weekend, the online Community Progressive Radio (www.CPRmetro.org) will air the May 2013 Tribute to Elbome Brath (2-1/2 hours) several times each day. Exact times will be posted on their website by Saturday, May 31 at 9 AM.
CPRMetro will broadcast a recording of the memorial on Monday, June 2 at 9 AM.
Read more: Justice & Unity Mourns the Loss of Brother Elombe Brath; Homegoing Services Sat., May 31
Details
WBAI's financial crisis continues. The station was able to pay staff severance and other bills, but still owes $150,000 (3-months rent) to the Empire State Building which houses WBAI's transmitter. Revenue in the current pledge drive is falling far short. Last year we had an even larger overall debt. But through your generosity, monies were raised and the transmitter was protected. Without the transmitter, we have no station.
We urge you to donate as generously as you can:
Call 212-209-2950 (the Call Center).
Make a secure online credit/debit card donation at give2wbai.org
Mail a check or money order (with "Transmitter Fund" in the subject line) to:
WBAI
Att: Development
388 Atlantic Avenue
Brooklyn, NY 11217
Beyond this immediate crisis, board members, staff, and listeners have put forward plans to help keep the station sustainable, short- and long-term. We are working collectively and considering many points of view. We welcome any suggestions you may have (This email address is being protected from spambots. You need JavaScript enabled to view it.).
Thanks for your continued support.
Details
Acie L. Byrd, Jr., co-founder of Pacifica Radio's WPFW and Stand Up! for Democracy in DC, left this world on May 13. The funeral was conducted on May 23, 2014.
On Monday, May 26, between 10AM and Noon, WPFW will air two tribute programs. Community members are invited to share their thoughts and memories during the second period. In the D.C. area, tune to 89.3FM; listen everywhere live or archived at www.wpfw.org.
Here, from a recent Local Station Board election statement, is Acie, in his own words:
I, Acie L. Byrd, Jr. was a founding member of WPFW in 1977. I have served as a Local Station Board member; and chaired the WPFW Gala, the largest of its kind in Pacifica history, hosting Jazz master Sonny Rollins; the mayor of Washington, DC; Congressman John Conyers, and over 1,700 guests.
I served as Pacifica and WPFW commentator covering shows on W.E.B. Dubois; Paul Robeson; Hurricane Katrina in New Orleans, LA; the Civil Rights Movement; S.C.L.C. president Dr. Joseph Lowery; Dorothy Cotton; Congressman John Lewis of Georgia; Dr. Julian Bond, founding member of the Student Non-Violent Coordinating Committee (SNCC), Distinguished Professor in Residence at American University, and professor of history at the University of Virginia; Dr. Lani Guinier, professor at Harvard School of Law; Jack Odell, author of "Climbing Jacobs Ladder"; and Rev. Jesse Jackson, advisor to Rev. Dr. Martin Luther King, Jr.
I have served as chair of the Nuclear Weapon Freeze Advisory Board of the District of Columbia. I received my BA from the University of Maryland, an ABD in political history from Walden University in Minnesota, and an MA in economics and African American studies from Howard University.
********************************************************
Acie's appearances on C-Span:
Read more: Tribute to the late Acie Byrd, co-founder of Pacifica station WPFW in DC
Details
(From the website, www.savekpfa.org): On May 12, Alameda County Superior Court Judge Ioana Petrou issued a wide-ranging 17-page decision that demolished each and every legal argument made by the supporters of former Pacifica executive Summer Reese. The judge issued a court order barring Reese from "entering, remaining, blocking ingress into or egress from, or the passage of persons into or out of" Pacifica's National Office.
"This is a total victory for the new board majority, which has been conscientiously working to save Pacifica," said Pacifica National Board (PNB) chair and SaveKPFA member Margy Wilkinson. "I hope that Reese and her supporters will leave quickly and peacefully so that Pacificacan put this chapter behind us." | READ decision, LISTEN to Pacifica Evening News, READ San Jose Mercury article
The backstory: anti-democratic moves to retain control
On March 17, shortly after Pacifica's board voted to discharge her, Reese used bolt cutters to break into her former offices and barricaded herself in the building with a handful of supporters, blocking Wilkinson and other board members from even entering the premises.
Reese's supporters on the national board then filed a lawsuit, asking a court to overturn the board's actions and even remove those who voted to fire Reese. The board members who sued were Janet Coleman (WBAI), Carolyn Birden (WBAI), Manijeh Saba (WBAI), Luzette King (WPFW), Richard Uzzell (KPFT), Kim Kaufman (KPFK), Janet Kobren (KPFA), Heather Gray (affiliate station) and Janis Lane-Ewert (affiliate station).
"Their lawsuit is an anti-democratic power play," said Brian Edwards-Tiekert, a KPFA staff representative on the Pacifica National Board. "The nine board members who signed on as plaintiffs lost a vote, and wanted the court to overturn it. They lost their majority, and wanted the court to give it back by purging their enemies. And then they filibustered meetings to try to prevent the majority from hiring attorneys to represent Pacifica," he added.
Read more: Judge Orders Fired Pacifica Executive To End Illegal Office Occupation